In recent years, supermarket aisles have been sporting more and more vegan products, with the confectionery aisle being no exception. In fact, vegan and plant-based gummy launches have increased by over 200% since 2018 in key global markets*, highlighting the ongoing appeal of these products.
Launch activity in vegan sugar confectionery continues to grow, in line with consumers' ethical concerns. Gen Z in particular – a cohort with growing purchasing power - appears to be interested in vegan confectionery, such as gummies. Unfortunately, making vegan gummies isn't as simple as just removing gelatine and hoping for the best! In this blog article, our technical expert, Mahshid, walks us through how to create the ultimate vegan gummy.
If you are thinking about capitalising on market interest and reformulating an existing recipe into a vegan recipe, you will need to accept that formulation changes as well as processing changes will be required.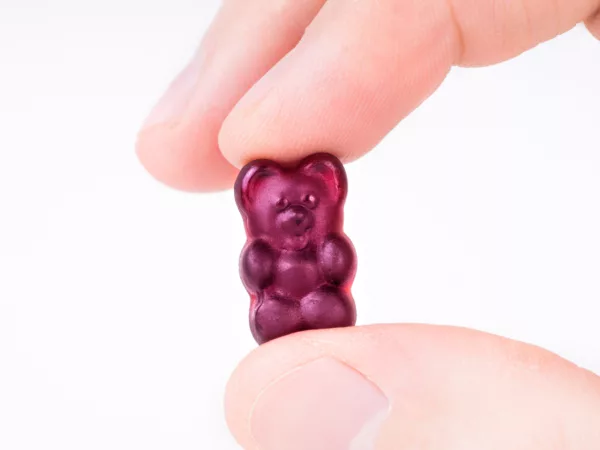 Formulation Changes

Perhaps the key challenge in creating great vegan gummies is that amongst all hydrocolloids, only 4 or 5 can actually gel. This immediately creates a small pool of resources to work with. When choosing a gelatine replacement, you need to look for a hydrocolloid that is easy to hydrate, has thin hot viscosity, has a slow set temperature, good clarity, provides good flavour release and, perhaps most importantly, has an acceptable texture. Potential candidates include gellan, carrageenan, pectin, agar and some starches. However, these ingredients have a higher melt temperature than gelatine, which comes with pros and cons. On the positive side, this means there are no issues with the end product melting in hot conditions. On the flip side though it means that they often provide a different eating experience compared to traditional gelatine gummies.
Some particular pros and cons of individual ingredients are as follows:
Pectin
Great flavour release, clarity and has a clean label perception.
Gels well in confectionery products.
Has a short bite, requires a high fill temperature, and offers low elasticity.
Agar
Hysteresis makes it a very good option for vegan gummies.
It melts and activates at around 85-90°C, but sets at a lower temperature of around 40°C. This means it can be used to bring down the set temperature of a mixed hydrocolloid system when replacing gelatine.
Its hot viscosity is not as low as gelatine though, so detailed shapes can be difficult to achieve.
Carrageenan
You can achieve a variety of different textures by blending different types of carrageenan together – kappa, kappa II, iota etc.
Higher thin viscosity compared to gelatine.
Carrageenans can have a faster setting time than gelatine.
Different types of carrageenans need to be carefully formulated to give the right firm and elastic texture.
Starch
Very common in confectionery – both vegan and traditional types.
They can complement the texture of many different gelatine replacement hydrocolloids.
Starch can help to reduce fast setting and hot viscosity issues associated with hydrocolloids.
Used alone they do not offer a complete textural experience when compared with gelatine.
Gellan
There hasn't been much work done in the vegan confectionery space using gellan gum.
However, theoretically high acyl and low acyl gellans could be combined to provide a firm and elastic texture.
Gellan also provides good clarity and a clean taste.
Using gellan can cause pregellation during the hydration phase, and it is also more pH sensitive than other gums.
Any of these options can be used to make vegan gummies, but the best results are often found in combining different hydrocolloids. This allows you to overcome many of the textural and processing challenges that need to be solved and create vegan gummies that meet consumer expectations.
Processing Changes
One of the big processing differences between standard and vegan gummies is that most gelatine-replacement gummies don't need to be deposited into starch moulds. This can be very helpful, as it means you can fill them into silicon moulds and demould them in under two hours.
Another area of potential processing change can be found in mixing vessels. Using different types of mixing vessels may be necessary when working on vegan gummies, specifically if starch and pectin are being used.
As well as this, the filling temperature may need to be adjusted. For example, if pectin or other gums with high setting temperatures are being used then hot fill processing may need to be considered.
How Can We Help?
While it is absolutely possible to create vegan gummies with the right texture and taste, you need a sophisticated understanding of the science at play. At Hawkins Watts we have been working with hydrocolloids for over 30 years and have a wealth of experience in this area.
With a line-up of highly qualified food technologists and food scientists, the Hawkins Watts team can work together with your development technologists in our in-house labs, supporting your technical projects. We have an excellent range of hydrocolloids available and can help you determine the most suitable products to work with given your specific application.
If you are working on a vegan confectionery project and need some guidance, please don't hesitate to get in touch with Mahshid, our Technical Manager: mahshid@hawkinswatts.com.au
---
Sources
Nesha Zalesny, 'Plant-Based Alternatives to Gelatin: Hydrocolloids in Confectionery,' The World of Food Ingredients, February 2021.
Mintel GNPD data, 2023.
*UK, USA, Canada, Germany, South Korea, Japan, Australia, New Zealand